Car Insurance Group 1
Get Cheaper Car Insurance with a Group 1 Rated Car
Whether you are renewing your current insurance, are a newly qualified, or are a learner driver, if you go for a group 1 car insurance rated vehicle then your premiums will be as low as they can for any type of car available in the UK. If you are looking to save money from the outset, particularly if this is your first car purchase, this is the easiest way to lower your costs.

Some examples of low car insurance group 1 vehicles you could consider are -


Popular Group 1 Car insurance vehicles -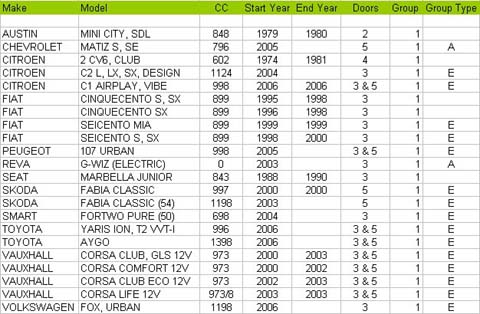 The above is not an extensive list. You download a full listing here -

Car Insurance Group 1 - full listing

All of the above cars are generally entry level models but Citroen and Vauxhall both stand out with a fair number of derivatives still managing to squeeze into group 1.

The insurance group rating is decided when the vehicle is first launched in the UK and various methods are applied to reach the appropriate group.

The car insurance group rating of your car is one of the most important aspects considered by insurers when looking at an appropriate premium for you and the vehicle being proposed. Of course your age, experience and whether you have any motoring convictions will also be important.
Car Insurer: News
Volkswagen Tiguan expert review
The Volkswagen Tiguan is a mid-sized 4x4 boasting handsome looks, comfort, space and a desirable badge, but can look pricey compared to rivals like the Kia Sportage.
Top ten budget supercars
When supercars are new they command super prices. But leave them for a few years, and you can pick up a lottery winner's dream machine for real-world money.
Nissan Juke now cheaper to run
The Nissan Juke will now feature revised versions of its 1.6-litre petrol and 1.5-litre dCi engines as well as different gear ratios.
Can't find what you're looking for? Try here: